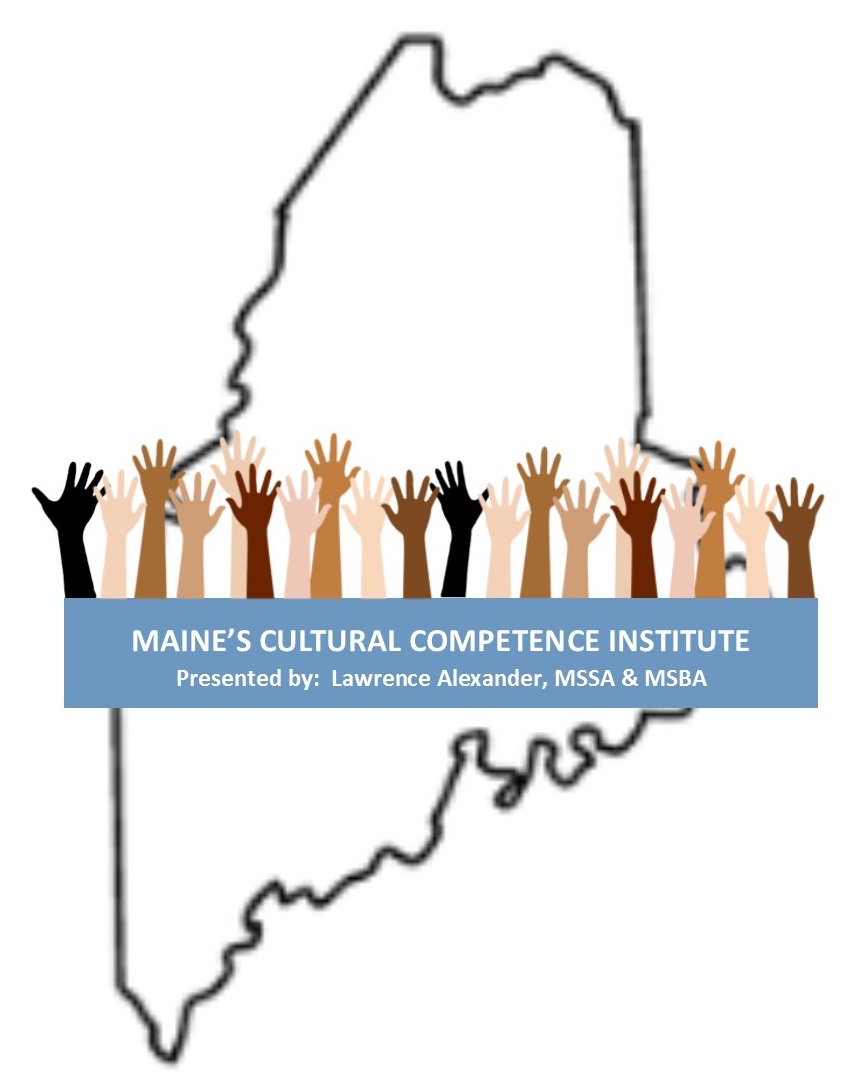 If you have questions about the CCI series or would like to discuss specific topics with the moderators, please contact:
Lawrence Alexander, Carney Sandoe and Associates Diversity, Equity and Inclusion Practice Group
Justine Medina, Principal, Carlos Pacheco Elementary School in New Bedford, MA
Eileen King, Executive Director, MSSA
Steven Bailey, Executive Director, MSBA
For questions regarding registration or meeting materials, please contact: Deb Swift
CCI Meeting Materials from 2020-21 - For the meeting materials and session videos from the first series, please click the link below (for registered attendees in 2020-21 only*)
CCI Session 1.0 Meeting Materials
If you do not have the password to access the site, please contact Deb Swift.
MAINE'S CULTURAL COMPETENCE INSTITUTE 2.0
PRESENTED BY MSBA & MSSA
Last year over 400 Maine Educators, School Board members, and students came together to participate in Maine's Cultural Competence Institute inaugural event. Due to popular demand the Maine School Boards Association and the Maine School Superintendents Association are pleased to announce the Cultural Competence Institute 2.0 (CCI 2.0) for all Maine educators and School Board members. CCI 2.0 will be presented by Lawrence Alexander from Carney Sandoe and Associates Diversity, Equity and Inclusion Practice Group. Click here to read Lawrence Alexander's bio. He will be joined this year by Justine Medina who is currently the Principal of Carlos Pacheco Elementary School in New Bedford, MA. Click here to read Justine Medina's bio.
The Cultural Competence Institute 2.0 Vision: The CCI 2.0 will be an interactive year-long program that will cover topics essential to:
· Developing a deep understanding of creating a culture of inclusion
· Developing brave spaces for conversations about race in our schools
· Creating a cultural connection for students and parents
· Creating a sustainable practice for diversity, equity and inclusion in our schools
· Guiding policy development in school districts
· Recruiting, hiring and retaining faculty of color
Participants will participate in a 9-month series of 90-minute professional development modules that will end in a CCI 2.0 certification. This certification will allow participants to:
· Lead more effectively with cultural competence and cultural empathy
· Develop practical skills for strategic planning for racial equity and justice work
· Develop professional development for School Districts related to DEI goals
· Develop sustainable practice for DEI work in School Districts
The cost per participant: $500.00. Click the link below to register.
Successful completion of the Institute will culminate in CCI 2.0 Certification and CEU's will be provided.
CCI 2.0 Registration Form (word document) or CCI 2.0 Registration Form (pdf document)
All sessions are from 6:00-7:30 p.m. (except for the Orientation Event on August 16th)
August 16 - CCI 2.0 Orientation Event (FREE) - 6:00 -7:30 p.m.: This event is free, but pre-registration is required
Session 1: September 20 – Culturally Responsive Communities: Our Way Forward
Session 2: October 18 – Understanding Schools as Agencies of Social Influence: Public Education in the State of Maine and America
Session 3: November 15 – Building Equity Response Teams for Schools and Districts
Session 4: January 10 – Social Emotional Learning and Student Wellness
Session 5: February 7 – Budgeting and Strategic Planning for Equity
Session 6: March 14 – Recruiting, Hiring, and Retaining Underrepresented Population
Session 7: April 11 – Reducing Bias in the Hiring Process
Session 8: May 9 – Culturally Responsive Curriculum/Teaching
MEETING MATERIALS * FOR REGISTERED ATTENDEES ONLY*
SESSION VIDEOS* FOR REGISTERED ATTENDEES ONLY*
Videos will be posted after each session.
Session 1 - September 20, 2021
Session 2 - Unfortunately, due to technical issues, a video isn't available for Session 2