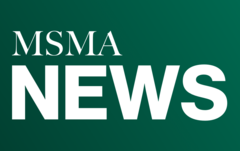 Keeping schools open and safe
Angela Audette
Monday, November 23, 2020
Maine's school leaders are diligently enforcing safety rules to keep students and staff safe as the second surge of the COVID virus sweeps across the country and want to keep schools open so students can remain engaged in their education in one of the safer places to be right now.
Mask wearing and social distancing continue to be the most effective ways to stop the virus as the country awaits a vaccine that won't be widely available until next year. Masks are required for all staff and students, with limited exceptions, and adults must maintain 6 feet of distance from others, to the extent possible.
"Superintendents and building principals are enforcing the state requirements designed to keep our schools open and safe," said Maine School Superintendents Association Executive Director Eileen King. "The truth is our schools are one of the safest places to be because we can enforce the rules in a controlled environment."
"We also are worried about the learning that is lost when schools are closed. Not all parents can be at home to be teachers. And not all families can afford to lose a wage earner," said Maine School Boards Association Executive Director Steve Bailey. "This virus disproportionately affects those families with fewer resources."
The DOE affirms that required protocols are being followed in terms of masking, distancing and hygiene. The Maine CDC has urged adoption of the following practices as additional precautions – many of which are in place at differing levels across the state.
Establish one-way hallways, if feasible, or use directional arrows and spacing markers to keep a minimum of 3 feet or greater between individuals.
Provide markers and reminders about distancing throughout the school.
Assign staff to monitor hallways and classrooms.
Stagger arrival and dismissal and bell schedules to minimize hallway crowding.
Utilize flexibility granted by the Fire Marshall regarding evacuation drills.